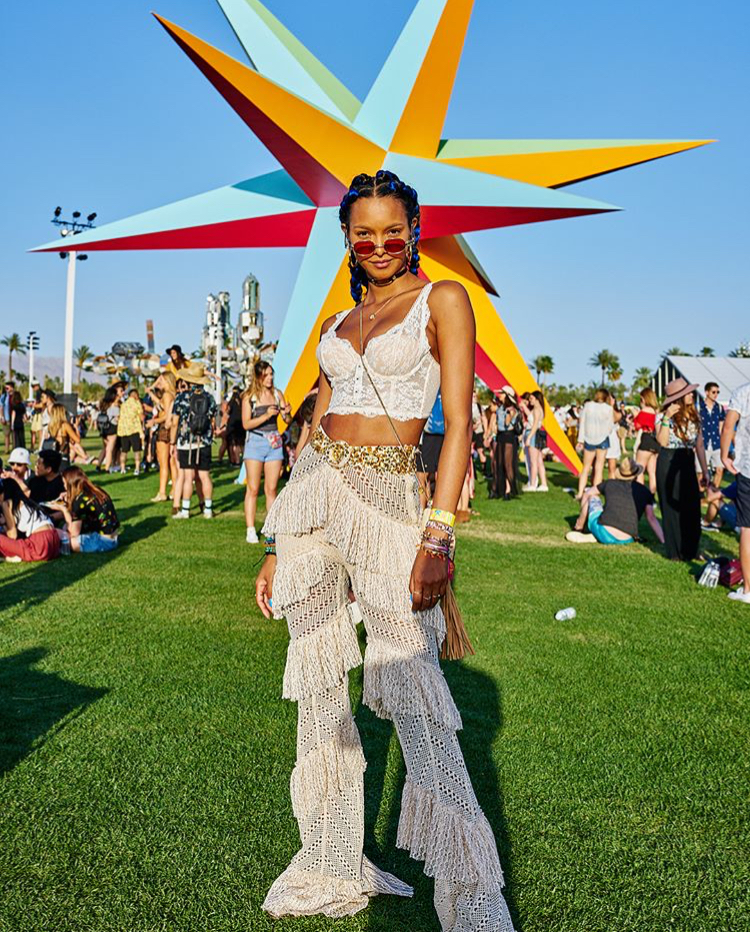 (For English & French please read below.)
Lyst'in hazırladığı Coachella raporuna göre, 2018'de, "Afrika" veya "tribal" desenli kıyafet ve aksesuarlar 2017'ye göre % 20 düşüş gösterdi ve kamuflaj baskısı % 16 arttı. Kimonolar ise 2017'ye göre % 14 artış gösterdi. Coachella '18'de en çok aranan kimonolar Free People ve TOPSHOP'unkiler oldu. Elbiselerde ise Reformation, ASOS ve Rixo'nun baskılı wrap elbiseleri en çok aranan festival elbiselerindendi. Ayrıca erkek işçi tulumları % 130'luk bir artış kaydetti. Araştırmaya göre internet aramalarında, kemer çantası her 3 dakikada bir, küçük güneş gözlüğü her 4 dakikada bir ve "çirkin/kaba" spor ayakkabılar için günde 2.000 arama yapıldı.
•
According to Lyst Coachella report, in 2018, "African" or "tribal" print clothes and accessories are down 20% compared to 2017 and camo print has increased 16%. Kimonos are up 14% compared to 2017. The most wanted kimonos in Coachella '18 was from Free People and TOPSHOP. Printed wrap dresses by Reformation, ASOS and Rixo was the most wanted festival dresses. Also men's boilersuits saw a 130% increase. In terms of searching, the belt bag searched every 3 minutes, 'small sunglasses' in every 4 minutes and 2,000 searches a day for specific ugly sneakers.
•
Selon le rapport de Lyst Coachella, en 2018, les vêtements et accessoires imprimés «africains» ou «tribaux» sont en baisse de 20% par rapport à 2017 et l'impression camo a augmenté de 16%. Les kimonos sont en hausse de 14% par rapport à 2017. Les kimonos les plus recherchés de Coachella '18 proviennent de Free People et de TOPSHOP. Les robes enveloppantes imprimées de Reformation, ASOS et Rixo étaient les robes de festival les plus recherchées. Les salopettes pour hommes ont également augmenté de 130%. En termes de recherche, le sac de ceinture est fouillé toutes les 3 minutes, de «petites lunettes de soleil» toutes les 4 minutes et 2 000 recherches par jour pour des baskets moches spécifiques.
Courtesy of Lais Riberio